Rum Runner's Deluxe Salmon Fishing and Photo Safari in Juneau Alaska
Our most popular tour is this deluxe, all-day tour allowing for your captain to go much further, possibly into Icy Straits to seek out some of the more elusive marine mammals on our longer excursion. This Charter allows more quality time spent observing the various animals, amid some of the most breath-taking scenic areas, while fishing in some of the places visitors rarely see. It is the best of both worlds! This is definitely the tour for avid fishermen, photographers, naturalists, and family groups and is highly recommended. Lunch is included on this trip and by request on our 6-hour excursion. Our rates are listed below.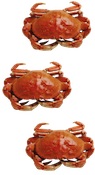 Dungeness Crab Drop
For our guests that are with us for multiple days, we offer an option to drop to pots for Dungeness Crab (need to soak at least overnight). Any crabs caught we'll cook them up for you and get them shipped home with the rest of your catch.
Dungeness Crab (3 pots) Add on ………………………………… $ 100.00

Private Charter Rates for Salmon Fishing and Photo Safari
All rates are for the boat, not per person.
Trip Includes: Fishing gear and bait, snacks and soft drinks, lunch, transportation, and fish cleaning. Fish processing and shipping arranged.
All-Day Fishing & Photo Safari*
1-3 People in Party $1375

4 People in Party $1475

5 People in Party $1575

6 People in Party $1675


6-Hour Fishing & Photo Safari*
1-3 People in Party $1075

4 People in Party $1150

5 People in Party $1225

6 People in Party $1300


*Private Charter means your party will be the only passengers on board. Rates do not include 5% sales tax. Fishing licenses are available for purchase on board.
Cruise Ship Passengers, please remember you can not book a full day trip if your vessel docks or departs in the afternoon, we can work out a shorter trip (6hr) if needed.